HANS Sport II Youth SFI 38.1 Head Restraint
Provides Professional Protection in Youth Sizing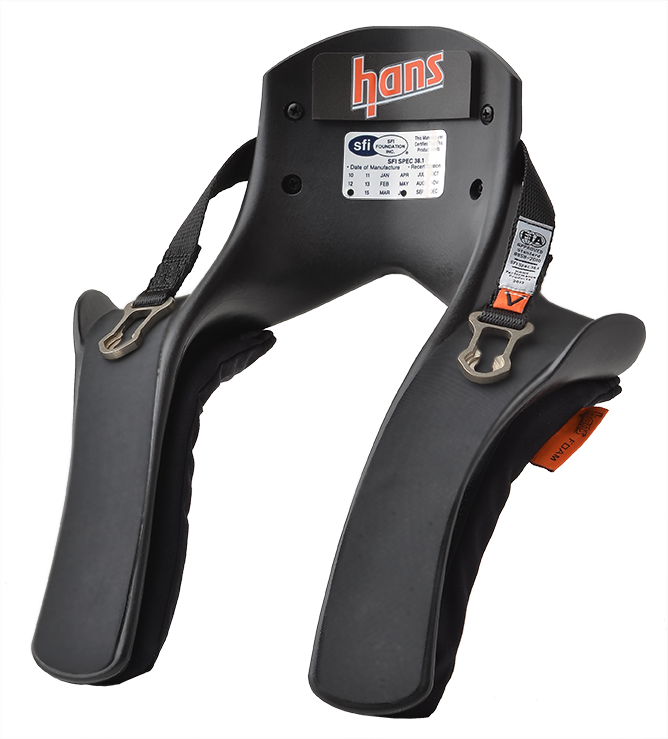 New Braunfels, Texas, May 19, 2014 ?
Simpson Performance Products introduces the new HANS Device Sport II Youth SFI 38.1 head restraint model, manufactured especially for young racers and smaller frames. The Sport II Youth protects younger, still developing racers with our patented HANS technology in a rounded, smaller collar and similarly proportioned legs.

Too often people think its only the racer who exceeds 200 miles per hour who will benefit from a head restraint, said Chuck Davies, CEO of Simpson Performance Products. We know that is simply not the case. Life threatening injuries can occur at speeds of 40 mph, but many can be avoided by wearing a certified head and neck restraint. We engineered the HANS Sport II restraint to provide the weekend racer the same protection as Tony Stewart or John Force, at an affordable price. The HANS Sport II Youth extends this protection to our younger racers who are the future of our sport.

Simpson offers SFI certified head and neck restraints in sizes to protect racers age 5 and up. The HANS Sport II Youth model has a 3 inch leg opening, designed for neck circumferences of

12 to 14 inches. For smaller necks, check out Simpson's Hybrid Sport in junior sizes.
NOTE: Simpson only has a few of these left in stock

The R3 is the most robust head restraint system available for young drivers. The R3 grows with your child, providing an economical solution and a constant level of protection.
Certification: SFI 38.1
Youth restraint fits up to 30" chest
Child restraint fits up to 26" chest
Device can be used with or without seatbelts
Ships race ready with Quick Releases, D-Ring Kit, Molded Seat Pad and Installation Manual
The Hybrid Sport for junior drivers! Lighter, sleek, modern and appealing with defined wings for seatbelt containment. The sliding tethers and patent pending multi-tether system enhances side to side range of movement and field of vision.
Dupont carbon polymer construction.
The Hybrid Sport Jr. sizes are SFI 38.1 approved.

Note the X-Small Child is supplied with shorter 10" FIXED tethers for the smallest of drivers.