I will be jotting down notes here from day to day, so keep coming back to see what's happening in the world of
BOOMERANG RACING
4/6-7/02 Ernie Bose World's Record Race
They had another good turnout for the Ernie Bose race with over 130 entries.

Sean Murphy in the new Lt "AA" car


Shawn Illingworth -- Novice Track Record 6.98


Shawn & Devon -- 1st & 2nd in the Novice Main
2/24/02 The Winter Olympic Games --
The spirit of competition is no where greater than it is at the Olympic games. Here we see people from everywhere who have dedicated their lives to being the best that they can be.
Here are some moments in time from the Winter Olympics ---
| | |
| --- | --- |
| Winter Olympics Theme | The countries flags at the Medals Plaza |
| Downtown Salt Lake & the giant pictures | Winter Olympic Park and the Ski Jumps |
| The Olympic Flame burns bright in the storm | The closing ceremonies were something to remember |
When you race -- be the best that you can be!!
12/15/01 Another year of racing has come and gone.
Time goes by as we travel from race to race. Racing is a lot more than just competing on the race track to see who is the fastest. Racing is seeing old friends and making new friends --- friendships that will last for a long time to come - both as adults and as kids.
We hope that you and your kids made some lasting friendships this year!!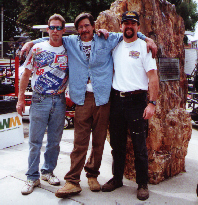 Mel Gardiner, Tony Hoffman, Bus Martin
Racing buddies from way back when
12/7-9/01 Buffalo Bill's at Stateline, Nevada
We had another great turnout for the 2nd race at Stateline, Nv. The race is held in the parking lot behind Buffalo Bill's. There is lots of room for parking and is not crowded like it used to be at the Showboat in Las Vegas. Buffalo Bill's sold all day passes for the kids on their rides and some of them went on the roller coaster for 30 times or more.
It was clear and cool during the day but when the sun went down it really got cold and the propane heaters were fired up all around the track. Even so -- everyone had a good time.
Jay Gradia Memorial Race
A memorial race was held for Jay Gradia at the Baylands Monza race in San Jose, Ca.
Jay was killed in a tragic accident on the way back home from the Dirt Nationals.

Jay Gradia with Garrett Hansen


Parade lap -- in memory of Jay


Balloons were released
with love messages to Jay
We will all miss you Jay -- keep watching over us as we race --
8/1/01 Eastern Grand Nationals at Oaklane, Pa.
The Eastern Grands had the biggest 1/4 midget turnout ever with over 700 entries and even with a little bit of rain everything was gotten in right on schedule. The trailers were spread out over several fields and some cars had to come 1/2 mile to get to the track.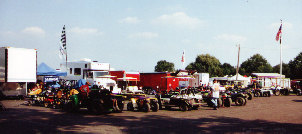 The race cars were pulled up from the back 40 by golf carts. All the carts had to be registered.
Opening day started off with Pretty Car and was followed by the Region Parade.
There was no exciting music like Madera and they were in a hurry to get through it.

| | |
| --- | --- |
| There were lots of pretty cars | The Regional Parade |
While we were there we went and saw some of the races at the Outlaw dirt tracks.
Friday night we went to Blue Mountain where they had 80 cars and the stands were full with spectators who just came to see the racing. On Saturday night we went to Lehigh Valley track located right next to the big Pocono Nascar track. The 1/4 midget track is shaped just like the big track with 3 corners. They had a smaller turnout of about 50 cars and some good racing.


Watering the track.
The big Pocono track is in the background


This is the "D" corner. They are
sweeping the track and watering it.

A week later, on Friday night they held a special 1/4 midget race at Pocono to coincide with the big Nascar race being held that weekend at the big track. Bobby Labonte and Ward Burton brought their kids down to drive the quarter midgets and race so it was a memorable night for the other 1/4 midget kids. The Mountain Dew car with Brandyn Ash driving won its race at this special event.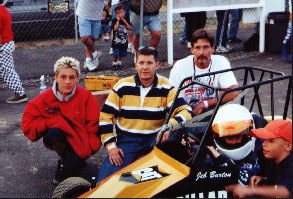 Ward Burton & Son with Tony and Anthony Hoffman.
Jeb Burton is driving the car.
The races at Oaklane went off real good and there was some memorable moments and some others that the drivers would like to forget. In the races prior to the A mains, a driver only had to place 4th or 5th to transfer up but in many cases the drivers got into race mode and were going for 1st place instead of a transfer spot and would end up putting themselves out of the transfer spots completely.
One memorable moment was in the Hvy AA Main when Nuckles won the race and his dad Jeff took him around the track on his wheelchair carrying the checkered flag.


| | |
| --- | --- |
| Oaklane Indoor scales -- a great idea. | Trophies were awarded to Main Event finishers at 3:00 AM Sunday morning |
7/10/01 Western Grand Nationals at Madera, California
The Western Grands had the biggest turnout for a West Coast Grands at 436 entries.
Madera went all out welcoming everybody and put on a great show from start to finish.
Saturday night started off with a Luau under the trees in the RV park. This was accompanied by Hawaiian dancers and singers for a great evening of togetherness.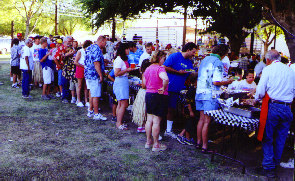 Lining up for some great food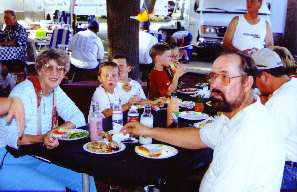 Bob & Sheri Wicker
Race day opened with a show of Nostalgia cars
| | |
| --- | --- |
| Some of these cars were just like new! | Robbi Jossett in a Bathtub Kurtis |
| | |
| --- | --- |
| Tony Hoffman in an old Fast Track car | People's Choice Award from Debi Supan |
Following the Nostalgia Car Show was a Parade for all the different QMA Regions
| | |
| --- | --- |
| And the music was great!! | Region 11 -- look at the size of the flags! |
Opening day was on Wednesday, July 4th. The club put on a fireworks show that night in the center of the track. It was a ground level show but still spectacular.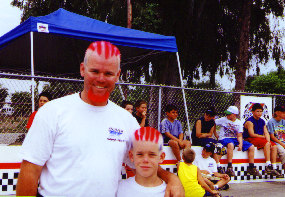 Dizney & Son -- Stars & Stripes on July 4th
The first few days were real hot, 110 degrees, but it did cool down after some rain.
The club gave out trophies every night to the heat race winners!!
5/9/01 California Monza at Sacramento -- 1st leg
The 1st leg of the California Monza series was held in Sacramento and drew 150 cars.
They practiced, qualified and ran heat races on Sat. the Consis, Semis and Mains on Sunday. By the time we got to the mains we had the 3 fastest cars in their classes.
Sr. Honda -- Anthony was leading the race and lapping the other cars when he got tangled up with a lapped car and ended up with a broken hub on the motor.
Hvy 160 -- Aaron Schankerman won this race leading most of the laps.
Lt "AA" --In the heat race, Ryan was 1/2 lap ahead when the drive tire (YFA) came off the rim. (Use Beadlocks with Firestone tires).
In the main event, he was driving away again when the tire started to feather and go away (Dunlop DAM this time). We switched back to the YFA on a yellow flag but there was not enough time left in the race to get back up front.
4/22/01 Ernie Bose World Record Race
The 2001 Ernie Bose World Record race was a big success. There were over 125 entries with the long haul trophy going to the Dodson's from New Jersey. Close behind them was Maurice Ash and his son Brandyn from Allentown, Pa. A lot of new World Records were set with two of them going to the new Boomerang cars.
Sr. Honda 120 ----- Anthony Hoffman with a 6:21
Hvy 160 ------------ Aaron Schankerman with a 5.92
Both Anthony and Aaron won their main events.
Brandyn Ash, also driving a new Boomerang car, won the Sr. Novice main event.
Second place in Hvy 160 was also a Boomerang car driven by Steven Graves.
(Steven Graves won the Hvy 160 Monza series run at 4 tracks in California - in 2000)
2/16-18/01 Motorama Indoors at Harrisburg, Pa.
We just got back from an indoor race held on concrete at Harrisburg, Pa. This is part of a bigger event called Motorama. They have a whole bunch of motorcycles, and 4 wheelers and run them on an indoor Motocross track built inside an arena. They also have a car show, rides for kids, RC car racing -- all inside one building. The 1/4 midget track is built in a separate part and it is the 4th year they've held this event. The draw was over 100 cars.

Indoors at the Motorama
There was no qualifying on the clock. They just ran some practice and qualifying heat races on Sat. This placed them in the main events which were run on Sunday. We had just delivered a new car to Maurice Ash and his son Brandyn and this was his first time on a concrete track. He was running a Hawkins' Stock motor and Pete Hawkins was there to supervise the motor.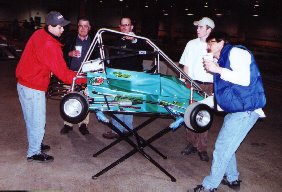 Pete Hawkins tuning up the motor
This was a Sr.Novice race and Brandyn won the race. The car was painted up for Mountain Dew so when they took pictures after the race, Brandyn was holding a can of Mountain Dew.
| | |
| --- | --- |
| The Winner | Brandyn Ash with the Mountain Dew car |
12/18/00 Thanks for a Good Year !
As Christmas fast approaches, we wish to thank everyone for their support this year. We had a fun year of racing and we hope most all of you did too.
Have a great Christmas and here's wishing you a great year of racing in year 2001!!
12/15/00 A New Model Car for 2001:
We have made some small improvements on the cars during the year and are in the process now of coming out with a new model for 2001. This car will not replace the ones we are building now but will be offered in addition to the present model. The new car will have a 16" wide frame with a new Sprint Car style nose and a flat right side panel for people who like this particular style of car.
Engine Parts and more Engine Parts:
We have been handling Dick Shelton's engine parts for the Continental/Deco motors. We have now added more of the other commonly needed parts like gaskets, PC rings, inserts, ignition shafts, pans, etc. so be sure to check these out for your engine rebuilding program this winter.
12/12/00 Buffalo Bills Year End Race
We just got back from a great race weekend at Buffalo Bills, Stateline, Nevada. The race has been held at the Showboat in Las Vegas for the last 15 years or so but due to a change of ownership a new location had to be found. It looked like there would not be a "Vegas" race this year but at the last moment a contract was negotiated with Buffalo Bills which is about 40 miles west of Las Vegas right on the state line between California and Nevada. More than 200 cars showed up for a mostly sunny weekend (only a couple of short showers on Friday). The nights were cold -- everyone was huddled around their propane heaters as they watched the practicing and later the racing after the sun went down. Everyone got to run at least 3 races as they did not qualify this year. Instead, they drew for position and ran two heat races on Saturday and then the Consi's, Semi's and Mains on Sunday. The picture on the Home Page shows the track with the Roller Coaster in the background. This is one of the highest and fastest Roller Coasters in the country. The ride starts right inside the Casino itself. Besides the roller coaster, there was an arcade and lots of other things for the kids to do so fun was had by all. A great way to end the race season!
11/27/00 THUNDER ON THE MOUNTAIN
The Thanksgiving race at South Mountain track in Phoenix, Arizona was held under sunny skies with 149 cars. They had paved over 1/2 of the top parking section so all of the trailers had asphalt to work on instead of rocks like it has been in the past. Thursday was practice day with a stop at lunchtime for a full course Thanksgiving Dinner and this was one great Thanksgiving Dinner! They had Turkey, Ham, Yams, Potatoes, Beans, all different kinds of pie and drinks and you helped yourself for all you could eat -- Great! Friday was qualifying and Saturday was race day.

11/1/00 Shelton Engine Parts
We are now handling all of Dick Shelton's engine parts for the Continental/Deco engines. These are specialized, high quality parts so check them out by clicking on the "Engine Parts" box on the Home Page. He does not have any cranks at the present time but they are in process and should be available around March of 2001.
10/15/00 Now its BOOMERANG RED!!
We have had our new coil springs, tire changers and tie rod straighteners painted Barron Red and we think they look great. Let us know what you think?

9/24/00 Gear Ratio Charts and Engine RPM
The gear ratio charts give the ratio between the crank rpm of the motor and the rpm of the rear axle. This is just a common reference point that everyone can refer to when they are determining what gears to use. To arrive at the figure in the chart we combine the ratio of the gear on the motor to the gear on the axle and then include the gear ratio of the gearbox on the motor. The gear ratio of the gearbox is 6:1 for the Honda motor and 5.73 for the Deco Motor. Looking at the Honda Gear Ratio chart -- if we have a 35T gear on the motor and a 28T gear on the axle, that ratio is 35/28=1.25. Combine this with the gearbox ratio of 6.00 and the overall ratio is 6.00/1.25=4.80. This is the figure that is used in the gear ratio chart. That means, if the engine is turning 5000 rpm, the rear axle will be turning 5000/4.80=1042 rpm. The higher the ratio, the higher the rpm of the motor (for a given axle speed). So, if your motor has good torque at a high rpm you would want to run high gear ratios. If your motor has high torque at low rpm you would want to run low gear ratios. You could go on to figure the track speed from this knowing the tire diameter and length of the track but there are a lot of other factors that come in to play with the hardness of the tires and tire grip on the track, etc.
What is really important to know is at what rpm does your motor have the most pulling power in the class that you are running. In the Honda classes -- Novice 120 with a restrictor plate should be in the range of 4400-4500rpm, Jr. Honda 120 in the range of 4800-5000 and Sr. Honda 120 in the range of 5200-5400. It is important to use a tachometer to determine exactly where your motor is running to get the right gear ratio.
RPM Range Gear Ratios
4400-4500 4.24-4.50
4800-5000 4.63-4.80
5200-5400 4.84-5.03
This chart is only a guideline. The length of the track and lap times on your track will determine exactly what gear ratio to use. Talk to people who are running your class and find out what ratio is working best for them. This will give you a starting point to go from and then just adjust gears until you get the right gear ratio for your car and driver.
6/10/00 New Coil Springs-- 1/2 the weight
Our new coil springs are now available with the following features-
* Powder coated -- Boomerang Yellow
* Individually tagged with the exact rate, 75# - 175#
* Select springs available at 1/2 the weight

6/1/00 Customer Support is #1
If you have any questions on setting up your car (any kind of car), or on anything at all, just give us a call at (909) 627-2219 and we will get you headed in the right direction.
5/22/00 Letter from a winning driver
"I'm just mailing you to tell you what place I got. I started on the outside pole and took the lead on the 1st lap in the heat and in the feature. I ended up winning both. Nobody could catch me but in the main I had 2 work 4 it." (160 class).
(We set up this 160 motor and sent it with the car -- we can do the same for you and put you up front too).
5/13/00 Classified Ads now Accepted
If you have a car or other item that you want to sell, just send us a picture and a short description along with the price and your phone number. You can send this by E-mail with the picture as an attachment or you can mail the information and we will scan the picture in. There is no charge for this service.
5/10/00 Full Color Cars and Parts -- Visit your local dealer.
We have several dealers where you can go and see the cars and parts up close
and personal and in full color. Call us for the closest dealer in your area.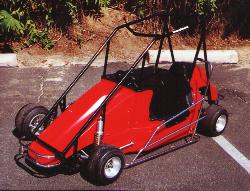 4/25/00 New Boomerang Cars are a big Hit!
We have shipped several cars across the country and are getting some good feedback. These are some comments from real racers --
- "Just got the car and ran our first race, finished 1st in the heat and 3rd in the main.
This is a fabulous car".
- "Just moved to senior novice and won the main event. The car is performing
beautiful".
- "The Workmanship is second to none. The Fluorescent Green frame is a real
standout". (Note: We can do any Hot Color that you want)
3/9/00 You can order any time of the day or night!
Its 9:00 P.M. at night and you just thought of something you need. Don't wait until tomorrow. Turn on your computer and order it now. Now -- that is convenient!
Here are some of our customers comments --
"We like your website very much. It is very clear and informative. We like being able to order on the internet at a time that is good with our busy schedule. Your service is great, we had our parts in a timely manner and the quality of the merchandise is very good."
"Great web site, I like that you can order parts for the car over the web, supplying a driver suit line a definite plus/--- Great Idea for the catch can!"
"I really like to be able to order parts over a secure connection any time of the day or night. The web site is organized very well making it easy to find what you are looking for. I have a son moving up to senior Honda this year so I suspect I will be ordering lots of replacement parts from you during this next season. Thank you and Good Luck Racing."
3/4/00 Rain, rain, go away, Come again another day!
Its been cold and rainy here in this part of the country, although it did let up for Pomona's opening race last Sat. Jan. 29 and it ended up being a beautiful day. Pomona's track has just been completely redone with all new concrete corners. Its been years and years since the original concrete was put in and the track was getting rougher every year. Now, with the help of a lot of people it is real smooth, with no dips in the corners. All new track records were set but of course these will keep going down as the weather gets warmer and warmer.
We have been wanting to do some testing with the new cars but with this kind of weather it is hard to tell anything. We will let everyone know what the tests show as soon as it warms up a bit and we can spend some time at the track.
1" Side Mount Pipes:
We just made a 1", 2 piece side mount pipe for a stocker with dual mufflers for a gentleman in Northern California. He ran the indoor race at Vallejo, said it gave him a whole lot of bottom end he never had before and he won his race. The newer stock motors do turn more RPM but this just means you need a shorter pipe than before to stay tuned.
Dyno Tuned Pipes:
The new 1" Honda 160 pipes are selling well and fit most any car. So do the Novice and Sr. Honda 7/8" Honda 120 pipes. These pipes have been Dyno Tuned and definitely provide more power. Try one and see.
Chrome Breathers:
Every car has to have a "Catch Can" now. We are making a simple square box "Catch Can" and its even chrome plated. Its available for right or left hand mounting so give us a call and order yours today.
Price Spreadsheet:
We have a price spreadsheet for anyone who has Excel. This spreadsheet is built in Excel 2000 and is fully operational. It will figure all the prices for you and give you a total. If you are interested, let us know and we will send it to you by E-mail.
1/27/00 Welcome to the Year 2000
Well, we made it into the year 2000 without the lights going off or the water running out!
We hope your racing season goes just as good without too many bumps or glitches.

Questions anyone, Comments?
We have installed a Customer Feedback Form so if you have any comments on the Website, just fill out the form. Also, use this same form to ask any questions that you might have -- like how to setup a car. We want to hear from you and be of service.
Setting up a car:
If you do have some questions on car setup, please supply the following information:
1. What class do you run?
2. What track do you run at?
3. What tire compounds are you running now?
4. Does the car have coils or torsion bars?
5. What rate or size are the coils or torsion bars?
6. What is the car doing now and what are you looking for?
New Frame Color:
We can have your frame powder coated any color including pearls and candies. Our powder coater specializes in exotic colors and he just showed us a new one the other day. He has always had a Candy Purple which is fairly deep in color and looks great. This new color is also Purple but it is much brighter and when its out in the sun you can catch glints of red from different angles- it is really spectacular, so if Purple is your thing, give this color a try!!
15" Frame Width Available:
Our standard frame is 14" measured outside to outside. There is plenty of room in this car, even for the bigger driver because of the added width in the cockpit with both Offset side panels and using a 20" cowl. There is also lots of room to work on a motor in the back because of the Offset side panels but we have run into an interference problem with the new Angle port carburetors. The Angle port carburetor stack sticks out 2" past the side of the flywheel shroud so it runs into the very top bar on the side of the frame. So, if you are going to run an Angle port carburetor, just order the wider 15" frame and there will be no problem.
Also, if your driver is really big, go with the 15" frame.
12/21/99
The On-Line catalog will be ready to use after the 1st of the year. We are still adding pages and have a lot to go yet.
I hear Phoenix was warmer than New Mexico and that the new Boomerang car did great. This was Derrik Ortega's first race on a real race track and he won 2 out of 3 races. Congratulations!
We have a new Oil breather that will bolt right to the back bottom rail of most cars. It is basically a Chrome Plated Baby Bottle, only a little more sophisticated. Call Tony at (909)627-2219 for complete details.
Here's wishing you all a very merry Christmas and a good year of racing in the Year 2000!

12/15/99
Question? How do I determine the right cage height for a car?
Answer: Sit your driver on the floor next to a wall and measure to the top of their head. Then add 7". That gives you 1" for the seat cushion, 1" for the helmet, 4" of clearance between the top of the helmet and the bottom of the cage, and 1" for the cage itself. We measure the height of the cage from the belly pan to the top of the cage at its highest point.

E.g. If your driver measures 27", then the cage height should be 27+7=34". The 34" cage will give your driver 3" of growing room before getting within 1" of the bottom of the cage which is the legal limit that they check at sign-ins.
12/14/99
Got a call from the folks in New Mexico. The city has given them a piece of land to build a new track on. Meanwhile, they are running on a parking lot at temperatures in the 30's. I hear they are coming over to Phoenix to race or is it to warm up a little?

12/13/99
We just got back from our year end race meet in Las Vegas. The weather was cold and blowing on Saturday but it turned into a beautiful day on Sunday for the Main Events. They had over 200 entries with people from Pennsylvania and Washington.

We delivered a new car to Gary Kamigawachi set up to run Lt. 160 at Vegas. Without any changes to the chassis, it qualified 3rd and won the Main Event. The driver, Braden, did an excellent job of missing several crashes and drove the car hard. This car had a purple body and a Candy Purple frame. (We can do any color combination that you want).
Welcome to the all new Boomerang Newsletter.